Testimonials
Hear from our Students
The best testament of our tutors' ability to teach lies not in their credentials, but in the testimonies that our students stand behind. See what some of our past students have to say about our tutors.
Anthony is a brilliant teacher who goes all out in helping his students achieve their best results. Highly recommended if you need help with Math and/or Physics. Helped me immensely in my preparation for the A Level exams. 6/5!
Daryl Lim
09:11 20 Mar 20
Before being taught by William, I was constantly underperforming in results and going through lessons with William definitely helped me do well for As. Apart from being very knowledgeable about the syllabus and him being a genius himself 😂, William is a very caring and approachable tutor and friend! He would always try his best to relate to my own thinking and try to improve my thought processes, if not sometimes sharing with me his own methodology and this form of teaching whereby he complements his students definitely go a long way in helping us improve. He also goes the extra mile to make sure that any doubts will be clarified by the end of the lesson, even if it means extending beyond lesson time and eating into his own personal time, or even when we send him messages where he would reply asap. I think one instance that stood out to me was when I asked whether William could travel to my house instead of me traveling to the centre because it would save me a lot of travelling time and give me more time to rest, and he agreed without hesitation even though this was a huge inconvenience to him. This goes to show how he really cares for his students and I really looked forward to lessons with William because I know I'm in good hands. Thank you William for being a great teacher and friend to me! :))
Ethan Tan
16:48 29 Feb 20
Thank You Anthony for bringing various physics apparatus for me to try before practical exams and for being really accommodating to my requests. He's also patient while explaining concepts and relatable. Thanks to him, I gained confidence for both my written and practical exams, and have also achieved my desired grade for physics.
Joyce Chan
14:50 26 Feb 20
Won't lie, but the first time I had lesson with William, I was really amazed by his knowledge in the fields of Physics and Mathematics, as well as his confidence in teaching. He has taken the A level examinations before and has kept up with MOE's syllabus very closely, hence not only is he well-versed with the topics I learn in school, he is also able to offer very practical and useful tips for scoring well in exams and even tips to study smart for As. Spending more time with William, you will come to see that he is actually very encouraging, patiently teaching and explaining concepts thoroughly so that I will have a firm foundation and understanding. Nearing exams, he tries to spend extra time after class for further clarifications or practice if his time permits. He also checks up on us and our other subjects once in a while to make sure I'm not overly focused on the subjects he's tutoring me. He has brought up my competencies of Physics and Math and maintained it all the way till A levels, helping me to score an A grade in both subjects. Overall, William (and his team at Orion) is definitely a choice to consider if you're trying to find top quality tutors.
Rui Chian Ng
07:06 25 Feb 20
H2 Math was quite a struggle for me throughout JC as the jump from secondary school was very big. I decided to join Orion Tuition Centre in J2, hoping to improve my grades. Thanks to the guidance by Mr Anthony, I performed well in the A levels while I used to get D/E in school exams. Mr Anthony was extremely helpful and always willing to stay back after lessons to help if anyone had extra questions. We could also ask him questions via Whatsapp anytime and he would explain concepts clearly to help us understand everything. I'm really grateful for the help provided, thanks Mr Anthony!! 🙂
Megan Soon
13:00 24 Feb 20
Teacher Anthony taught my son AMath and Teacher Agnes taught him Pure Chemistry last year. Amazing, patient and dedicated tutors who helped him achieve beyond his expectation. Their approach not only secured him Distictions, they also build up his confidence that eventually land him in his dream JC! **Thank you, Teacher Anthony and Teacher Agnes**
Yvonne Teo
09:19 04 Feb 20
Took one to one lessons with Anthony during my JC2 year for H1 math, he was extremely patient, having to explain similar concepts multiple times. He always does his best in finding and improving the methods used to teach students, and I greatly appreciate his effort. Highly recommend his classes to anyone wanting to improve their math understanding and grades!
Curry Puff
13:38 08 Dec 19
I really enjoyed the lessons here with ms Celia. Glad they offer classes for h1 math as well .My math really improved after coming here and Celia was very nice and patient .The ambience there is good too very conducive. Thanks ms Celia
Julian Fong
07:30 05 Nov 19
I would like to recommend Orion as parent's first choice because the teachers are all very passionate, my math improved a lot thanks to the dedication and tremendous effort my teacher had put in. The effort they put in is commendable as they personalise different teaching methods for different students!
9ShadesOfKai
11:37 10 Oct 19
I would like to commend Ms Agnes Chan (O, IP, H2 Chemistry) for her patience and guidance. She puts in her heart and soul to teach her students and delivers clear and concise chemistry lectures so that her students have a firm grasp on the essential concepts and bridge lessons well, ensuring that all her students can follow through her lessons and prepares very substantial and informative quick study notes and highlights common questions and tackling data based/decontextualised questions, allowing her students to be very well prepared for the syllabus. I would also like to commend Ms Celia Chia (O, IP, H1 Mathematics) as a very kind and helpful tutor that takes the time to ensure that no pupil is neglected in her class and is very adaptive and is willing to tailor her teaching styles and methods to suit each student and class as per necessary. She often will provide ample graded assessments and copious amounts of worksheets for practice that are really helpful and relevant to the syllabus, and cares very much for her students well being, making her stand out as a well liked and effective Math tutor for the O level and IP class. Both tutors are willing to schedule consultation slots (1 on 1) FOC and provide supplementary notes and worksheets for topics on request and are quick to respond to any on demand questions students have via text messages. This is greatly appreciated and shows that they put in care and push every student to their maximum potential and excel beyond that threshold. Would highly recommend Orion for their team of excellent tutors and ability to deliver the best for every student.
Exley Yun
14:10 08 Oct 19
Truly excellent tuition centre! I joined halfway through the first year of my JC when I was failing nearly every subject and through the help I received at Orion, I was able to achieve far superior results in my A levels than I used to before joining the centre. Mr Anthony is an extremely patient and detail oriented teacher and is always eager to help in many ways whether it be through extra consultations or answering questions through WhatsApp. He is also able to spot questions which could come out in the A levels, and in fact a few questions in the H2 Math paper actually did! With his continued help and support, I have managed to gain admission to Monash University, a top university in Australia. All in all, I highly recommend this tuition centre as it provides top notch academic support as well as facilities!
Chetan Chandra Behera
06:02 04 Jun 19
Orion has been very passionate to help my son to prepare well for his A level exam. The tutors put in tremendous efforts and extra hours to coach him in H2 Maths and Science subjects. With their dedication and commitment, my son began to understand concepts that were unclear to him in the past. I am grateful to them as my son achieved good results in his A level to secure a place in the local university. I would like to express my appreciation to the tutors, particularly Anthony and Agnes. And I would recommend A levels students who need help in Science and Maths subjects to give the Centre a try.Hereby wishing the Centre all the best in the coming years.
Andrew Lim
13:32 19 Apr 19
Seeing that Chemistry was the weakest out of all my subjects, Mr Anthony(an amazing H2 Physics and H2 Math tutor by the way!😁) recommended Ms Agnes to me as a tutor. She was made aware of my poor results and took extra effort to coach me to catch up with a class that had already started. She points out fundamentals and common mistakes that any average student would make to ensure we do not make the same mistakes. The additional lessons and OTOT consultations provided allowed me to clear my doubts without fear of dragging the class down. No matter how much clarification we needed, she would still do her best to explain and would ensure that we understood the content of the lesson. Overall, I would definitely recommend Ms Agnes for Chemistry lessons!😃
Tan Shaun
08:44 03 Mar 19
William is an extremely dedicated tutor who makes learning a truly enjoyable process. He is extremely knowledgeable and experienced in the field of mathematics, and would guide us through important concepts using a variety of methods, such as anecdotes, as well as practical examples. His teaching is clear and concise, and he makes mathematics easy to learn and understand. He also teaches many handy tips to improve the way we answer the questions. William is always patient with me and would slowly explain any doubts I do not understand. He is extremely generous with his time and willingly takes time outside of class to clear any doubts that we have regarding any questions we have. On top of this, he also extends beyond lesson times to help us to the best that he can. To him, there is nothing that brings more joy for him than seeing his students improve. William exudes a kind and sincere aura and his warm and genial personality puts people at ease. We look to him as a friend whom one can easily turn to and count on. He frequently checks on how we are doing, and once in a while shares his life stories such as how he worked for his A levels, to motivate us and spur us on. He would also give us tips on how to revise, not only for mathematics but also for other subjects. The two years I have spent under William's coaching have been enriching and meaningful, for I not only improved my understanding and knowledge of H2 Mathematics, but also learnt other important life lessons.
Yunqian Ng
12:57 28 Feb 19
I joined Orion at the start of my A level year. Physics with Mr Anthony was very helpful in giving me the extra boost I needed to excel at the subject. I really appreciated the rigour and breadth of the practice questions that he provided, as well as his thorough explanations of the solutions. Ms Agnes was very patient and encouraging, and she helped me build up my chem foundation that had been quite lacking. She focused on explaining the basic concepts and provided many apt practices which helped my chem grade climb steadily throughout the year from a U at CT1 to an A at A levels.Thank you!
Charis Chiang
08:59 27 Feb 19
Mr Anthony explains mathematics concepts clearly and patiently which helped me solve the questions easily. He also drill us with questions of different difficulty levels and various types, to ensure that we am able to tackle the wide spectrum questions at the A-Level. He provides additional optional lessons and consultations to gear us up for the upcoming major examinations in school as well as the A levels examinations. Without Mr Anthony help and teaching, I would not have obtained an A for mathematics in the 2015 A-levels examinations! Pei Ying - 2015 YJC
Mr Anthony is a caring and dedicated teacher who does his best to meet the needs of his students. Closer to the A levels exam, he offered to give additional lessons and consultations for anyone who required it. He also took special efforts to collate the different question types for each topic so that we can have a more well-rounded revision and better tackle the questions. During the intensive period, he also gave us additional timed practices which better prepared us for the grind. Apart from all these, he also connects well with his students, often encouraging us and offering his advice. It has been a blessing to have met such a wonderful Math tutor like Mr Anthony, will definitely recommend Orion tuition!!
Patricia Ter
16:15 24 Feb 19
I first sought Orion Tuition Centre for H2 Maths tuition in 2018. I was always struggling in my mathand have never done well for math in my junior college exams before. However, thanks to Mr Anthony, he was very patient and detailed in his explainations. Within a short span of time, my results improved greatly and I got a B in my A-levels. Without Mr Anthony, this would not have been possible!
shannonljx x
14:48 24 Feb 19
Orion was really really helpful in helping me prep for A levels. I went to Orion for math and physics, H2. I was lagging behind in academics due to extra sch activities and was really demotivated when I joined Orion. Mr Anthony not only made me feel more confident for the exam but really helped me improved. He gives one-to-one help when I really needed them. Nearing to exams, his strategic revision papers and consultations are my saviour! My math went from S(prelims) to A(A levels), its really unbelievable getting this result. Orion was key to my improvement, thank you!!! And I definitely recommend it.
Jamie Tan
13:28 24 Feb 19
I first met Mr William way before the tuition centre was established. He tutored me for around four years between 2007 to 2011 through my O and A Levels. He is a passionate and dedicated teacher and I loved the way he taught. He could explain difficult mathematical concepts in a simple manner. Through his guidance, I was able to achieve distinctions in both my O and A Levels Mathematics subject. Years of Mr William's teaching allowed me to build a solid foundation in Mathematics, which was highly beneficial throughout my undergraduate studies. Looking beyond the teacher-student relationship, we continued to keep in touch over the years. I am deeply supportive of him starting up a tuition centre. With the breadth of experience and the passion in teaching, he is definitely the perfect man for the job!
Jarius Tan
22:27 03 Oct 18
Mr William is a very patient and dedicated mathematics tutor. As someone who was always weak in math in junior college, I gained a lot more confidence through his teaching and guidance. Unlike prior tuition centres I have attended, I was able to have one-to-one lessons in Orion Centre where I could both receive help for math questions from school as well as have additional notes and practices. Mr William made mathematics much easier to understand as he would patiently go through all the math concepts at my pace which made me better able to catch up during lectures in school. Overall my grades have greatly improved through his lessons and I could not have scored a good grade in A levels without his help! 🙂
Charmaine ho
08:22 17 Aug 18
When I first approached my tutor, William for help, my confidence in mathematics was at an all time low. Mathematics was my weakest subject and I could not understand it no matter how hard I tried or how much time I invested in it. However, William never once gave up on me. He was always patient and dedicated, spending additional time after classes to explain concepts that I couldn't understand, or questions that I was unable to solve in school. He also answered questions I sent through WhatsApp no matter the day or hour. William is very knowledgeable in his subject area and would demonstrate different methods to solve a question. This allowed for better understanding and I could then choose the method I felt most comfortable with. Throughout my A level journey, William was always encouraging, looking at the positive side of things and never rebuking me for subpar results. Although he only coaches me on mathematics, William looks at my results holistically and tells me which subjects I should put more focus on. He made me feel comfortable to ask even the simplest of questions and was never frustrated by the number of questions I had. I believe that that was most vital for my improvement in mathematics. William is more than a tutor and I am forever grateful for his guidance.
Gerry Chong
06:17 15 Jul 18
I didn't know what to expect when I first approach Mr William for help as I never had tuition before. The lessons at Orion are much more structured as compared to school and more useful resource was provided. Also, Mr William would often link the concept we learn in class to different type of real life applications. That makes the lessons more interesting and spiked my interest in physics, eventually leading to my good grade at the A-Level.
Arthur Liu
10:04 11 Apr 17
My tutor, William, at Orion Tuition was a very dedicated tutor. With his help, I was able to understand mathematics much better, eventually obtaining a desirable grade at the A Level. Thank you! 🙂
I had lots of difficulties in understanding H2 Physics. However under their guidance my concepts for physics have improved greatly. I doubt I would ever scored well at the A Level without all the support i received from Orion Tuition!!
Jaslin Chong
08:29 06 Apr 17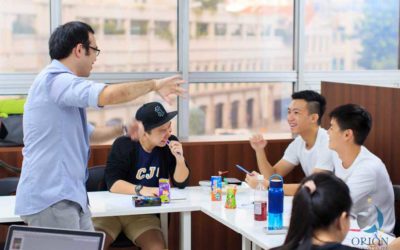 During Sec 3, my math was hanging on the borderline pass mark with a chance to easily slip into a failure grade. Anxious, my mother engaged a tutor for me from a friend of her's. Honestly, I have never believed that tuition actually helped as it was more of just...
read more