Testimonials
Hear from our Students
The best test for a tutor's ability to teach, lies not in the credentials, but rather the testimonies that past students vouch for strongly. See what some past students have to say about our tutors.
My experience with Mr Anthony was extremely good. Joining about 6 months prior to A Levels (H2 Math), he managed to prepare to prepare me to the best of his ability through of series of targeted

practices. He even went through an extra mile to provide additional classes nearing the exams. Without a doubt, he is one of the best tutor I ever had and would gladly recommend him to everyone.

read more
Lim Wan Rong
2018-10-03T10:40:28+0000
We were very impressed with Mr Anthony when he taught my son H2 Maths for the past 2 years. He was able to motivate him. He is also very accommodating and always went the extra mile to help my boy

whenever he needs help. Hopefully he will be able to help my girl next year when we enroll her for his class. Thank you Mr Anthony!

read more
Choong Pek San
2018-10-01T12:02:56+0000
Overall I'd say my experience at Orion is the BEST amongst all other tuition centres I've been to for the following reasons:1) Casual SettingWilliam is super friendly and approachable which I feel

is an imperative aspect that all teachers should have. It made me feel comfortable to ask questions (no matter how silly it may be) as it helps William identify my thought process and realign it to the correct one. 2) Clear & Concise, Everything the Syllabus DemandsWhile I am sure William would be more than willing to share more on the subjects (Mathematics and Physics), time was of the essence for me while preparing for my A levels. Having joined late I had loads to catch up on. Fortunately, the format done by William is super organised and consistent (ensuring everything that could possibly be tested is being covered) and with sufficient relevant practice. While preparing for my exams, I substituted my school notes for his notes entirely. 3) PassionateWhile this may not seem like a huge factor to many, I think his passion in the subject did rub off a little which motivated me to work hard on the subject seeing it as something less daunting and doable. I remain amazed at how he is able to grasp higher level concepts so quick and consult him from time to time even as I am in university (we're both in engineering) at the time of writing this review. Being 10 years my senior (coincidentally, we have the same Alma-mater), he has achieved so much which really inspires me to work hard and see what could I achieve in the same time span.

read more
Cho Yen Wee
2018-09-29T07:57:20+0000
I really enjoyed my time at Orion Tuition Center. Mr Anthony is very dedicated in teaching and gives special attention to those who are weaker in certain topics. I find that the way he teaches makes

everything clear and I can finally completely understand the material that was taught in school. After attending his class I felt a lot more confident about math and physics and even developed a passion towards these subjects. Will definitely recommend!

read more
Keenan Kuah
2018-09-28T15:56:20+0000
Was a student of Mr Anthony even before Orion Tuition Centre came about. Looking at the currently reviews of Orion, I must say that I am very impressed that his passion for teaching is showing

through!Mr Anthony is an extremely patient tutor who understand ours learning styles and adjust his lessons to match that. I required a lot of repetitions to remember specific details and he is wiling to do just that. Nearing exams, he is concerned for us and organises more sessions just so that we can be better prepared.The questions given to us to practice, I must say, is very strategic - questions that addresses key concepts commonly tested by schools. Not only that, questions given includes more challenging ones to push our abilities further. Certainly benefitted under the guidance of Mr Anthony!

read more
Regine Seah
2018-09-26T06:56:29+0000
Mr Anthony is approachable and friendly. He makes sure that we understand what is going on and spontaneously asks if we need help.Will recommend to friends
Grace Chow
2018-08-13T07:31:08+0000
Mr Anthony is very patient and always answers my questions after class or on whatsapp. Even if I don't get it the first time, he is always willing to explain again. The countless encouragements that

they gave me was a huge motivation for me to persevere, as my results wasn't really showing only until the A Levels. Moreover, I have benefitted greatly from their Orion Outreach Program. This shows that they are really dedicated in their teaching, as they ensure students who needed the extra help but had finanical difficulties are able to get all the help they can get. For that, I am really grateful to Orion Tuition!

read more
Zi Rong Tan
2018-07-29T05:38:28+0000
I was a student of Orion Tuition Centre from 2016-2017 and really enjoyed my time there. Mr Anthony was always willing to go the extra mile for his students, giving special attention to those who are

weaker. His methods of teaching are effective, and greatly supplements what I learnt in school. I was only mediocre at math when I joined, but attending his lessons made H2 mathematics the subject I was most comfortable in and confident in doing well throughout the 2 years of Junior College.

read more
Adriel Ting
2018-07-24T08:41:57+0000
It was honestly one of my best decisions to join Orion Tuition Centre in 2017, I was introduced by a friend and I've never looked back. Mr Anthony and Mr William are really patient and dedicated

teachers who always go all way out to help their students. I wasn't particularly good in math, but they helped me regain my confidence in math, and I managed to attain a B for my A levels H2 Math. I Would highly recommend this tuition centre to people who want to excel in math 🙂

read more
Joline Carmelia Tee
2018-07-11T10:23:29+0000
I joined Orion Tuition Center on the 3rd week of July 2017 and I was running out of time before the A Level examinations start. To make it worst, I took my A Level examinations in 2015 when I was

still in school and did not even study for that 1.5 years gap before I decided to retake my A Level again in 2017 as a private candidate.As bad as it seems, I got an E for my H2 Mathematics in 2015 and clearly I was not the brightest student and needed help, like major help. My friend recommended me to go for Orion Tuition Center so that was where I met Mr Anthony and Mr William.I have not seen any tutors as dedicated as them both ever in my life. I have gone through lots of break downs just because I felt hopeless because I simply could not understand and get the right answers. There are times I felt like giving up; thinking that maybe retaking A Level was a wrong choice for me. However, Mr Anthony never fails to keep on encouraging me, giving me lots of motivation to keep myself going. He loves to share his personal life stories which inspire me a lot.I remember failing all the math tests that Mr Anthony had prepared for us and how I always wrote "Help" on my test papers just because I do not know how to do, or even worst, I do not even know how to start on answering the question. Yet, he did not lose hope on me. He still believed in me that I could still catch up in that 4 months I had. I loved the way he conducted all his lessons as he would summarise the topic before he go through the examples and questions. After each topic that he had completed teaching, I end up referring only to his notes without even looking my school notes previously. It was sufficient enough for me to use his summaries and examples as my revision. He also tried to make his lessons hilarious sometimes so that we can remember better.Apart from that, I remember how Mr William had stayed with me through the night just to clarify all my doubts the day before the actual A Level examination day. Even though I always get confused with some of the concepts or formulas, he taught me with so much patience. Even at some point of time he had to keep on repeating his explanation to me, he tried his best to explain it in thousands other ways he could just so I can grasp the concepts. Even after he left, I still keep bugging him, sending lots of Whatsapp messages asking him this and that. He is more than happy to help me and write down the solutions for me.Lastly, they also look out for those students who are financially unstable. They would try their best to help these students to get the lessons they required. I am so amazed at how kind-hearted they can be. When you see it with your own eyes, you will know yourself that they are not doing this mainly for the money income, but also for the satisfaction they receive when they see their students do well in their future endeavours.All in all, I guess what I am trying to say is that, no matter how slow you are and no matter how hard it is for you to understand; they will never give up on you. They will guide you throughout the whole journey until your A Level examinations end. However, hard work and discipline still plays a big part to make a big difference. Like they always say to me, "Nobody can help you if you don't want to help yourself."I managed to pull off with a B grade for my Mathematics A Level at the end of the year 2017 and though it was not an A, I see it as a big achievement for myself, knowing I only got an E and did not study for 1.5 years. I guess anything is possible if you believe in yourself. I really could not have made it if it was not for Mr Anthony and Mr William. Hands down the best tutors ever!Nur LidiyaPrivate Candidate for A Level of 2017

read more
Diya Doofenshmirtz
2018-07-10T08:18:17+0000
Awesome teachers! Anthony and William are highly dedicated in helping their students and would go all out, like organising extra classes, and consultation for those who needs extra help!The method

of teaching adopted by the teachers are done in a manner which makes concepts a lot easier to understand. They would also come up with strategies to help the students learn and find patterns in questions which was very efficient!:))On top of that, we all know how depressing studying A levels can be. But fret not! The teachers from Orion will always be providing their students with a lot of encouragement and emotional support when the going gets tough! Thanks Orion Tuition Centre!

read more
Chua Jing Wen
2017-11-19T09:27:41+0000
Teacher Anthony made physics a lot clearer for me and I actually find it enjoyable thanks to him! At that time, i didn't really understand the concepts and just did questions by using a formula which

I thought would appropriate.. I was at a lost of what more i need to do to improve my physics. But after attending his class, I begin to understand the concept better. This is because he always make sure I fully understand on one concept before teaching me the next. There are also refreshments at Orion for the hungry students and a study corner for our self-study (especially useful during A Level).

read more
Nicole Tay
2017-09-01T15:47:10+0000
Orion tuition has benefited me alot!! Back in August last year, i was still super unprepared for Alevels! This was when i heard about teacher Anthonys class from my friend. He provided a summary for

the bigger topics and compiled the more commonly tested qns for us to attempt. Whenever i have doubts, he always tries his best to help me and would stay back to give us consultation even when our tuition ends at 9pm. He genuinely cares about his students and i am so glad that i chanced about his tuition class!! :~)

read more
Zoe Wong
2017-08-31T11:05:25+0000
Anthony is passionate, dedicated and always willing to go the extra mile when it comes to helping his students. His can-do and never-say-die attitude is clear in his teaching approach; Anthony is

creative in explaining concepts and theories to suit different learning styles. With much guidance, patience and encouragement on his part, my H2 math went from a consistent S to an A at the A levels. 10/10 would recommend Orion 😉

read more
Lee Chen Xin
2017-07-30T13:23:49+0000
Orion Tuition Centre has the most helpful teachers, and an extremely conducive environment for one to study and learn in. As my tuition teacher for both maths and physics, William never gave up on me

despite my continuous slew of failures, even going the extra mile to give me extra tuition and staying till 10pm to help me out. Despite the fact that I wasn't his student, Anthony never failed to offer his help and expertise. Orion Tuition Centre is also very accommodating, allowing students to use their facilities for self-study purposes. For the first time ever, I managed to pull more than a U or S for my maths and physics, and actually passed those subjects decently enough for the As. If not for the centre I would've had to retake the As. Orion is most definitely a tuition centre I'd recommend to others; for what it's worth, thank you so much for everything!

read more
Amanda Lim
2017-07-30T10:39:24+0000
One of the best decisions I have made was to join Orion Tuition. We were exposed to all types of questions and were very well prepared for the A-Level examination. The answering techniques taught

were very effective and the tutors were always very patient in answering any questions that we might have. Apart from helping us gain an academic advantage, the tutors also showed great concern for our well-being. I will never forget the never said die attitude, the constant encouragements and the optimism that Orion Tuition had shown me. Thank you, Orion!!

read more
Alicia Ng
2017-07-29T14:48:56+0000
Has excellent learning environment and dedicated teachers to help students excel
Wei Xiang Tan
2017-07-29T03:48:25+0000
Mr William is a very patient and dedicated mathematics tutor. As someone who was always weak in math in junior college, I gained a lot more confidence through his teaching and guidance. Unlike prior tuition centres I have attended, I was able to have one-to-one lessons in Orion Centre where I could both receive help for math questions from school as well as have additional notes and practices. Mr William made mathematics much easier to understand as he would patiently go through all the math concepts at my pace which made me better able to catch up during lectures in school. Overall my grades have greatly improved through his lessons and I could not have scored a good grade in A levels without his help! 🙂
Charmaine ho
08:22 17 Aug 18
When I first approached my tutor, William for help, my confidence in mathematics was at an all time low. Mathematics was my weakest subject and I could not understand it no matter how hard I tried or how much time I invested in it. However, William never once gave up on me. He was always patient and dedicated, spending additional time after classes to explain concepts that I couldn't understand, or questions that I was unable to solve in school. He also answered questions I sent through WhatsApp no matter the day or hour. William is very knowledgeable in his subject area and would demonstrate different methods to solve a question. This allowed for better understanding and I could then choose the method I felt most comfortable with. Throughout my A level journey, William was always encouraging, looking at the positive side of things and never rebuking me for subpar results. Although he only coaches me on mathematics, William looks at my results holistically and tells me which subjects I should put more focus on. He made me feel comfortable to ask even the simplest of questions and was never frustrated by the number of questions I had. I believe that that was most vital for my improvement in mathematics. William is more than a tutor and I am forever grateful for his guidance.
Gerry Chong
06:17 15 Jul 18
I didn't know what to expect when I first approach Mr William for help as I never had tuition before. The lessons at Orion are much more structured as compared to school and more useful resource was provided. Also, Mr William would often link the concept we learn in class to different type of real life applications. That makes the lessons more interesting and spiked my interest in physics, eventually leading to my good grade at the A-Level.
Arthur Liu
10:04 11 Apr 17
My tutor, William, at Orion Tuition was a very dedicated tutor. With his help, I was able to understand mathematics much better, eventually obtaining a desirable grade at the A Level. Thank you! 🙂
I had lots of difficulties in understanding H2 Physics. However under their guidance my concepts for physics have improved greatly. I doubt I would ever scored well at the A Level without all the support i received from Orion Tuition!!
Jaslin Chong
08:29 06 Apr 17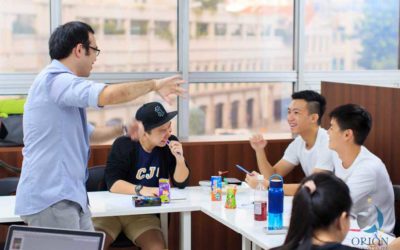 During Sec 3, my math was hanging on the borderline pass mark with a chance to easily slip into a failure grade. Anxious, my mother engaged a tutor for me from a friend of her's. Honestly, I have never believed that tuition actually helped as it was more of just...
read more
Have any Questions?

Say Hello!
You may reach us at +65 9271 9276. However, due to the number of lessons we are conducting, it may be a challenge to answer all phone calls. Alternatively, do leave your contact details below and we will get back to you as soon as possible.
Location
Bugis Branch: 420 North Bridge Road, #03-06 North Bridge Center Singapore 188727
Yishun Branch: Blk 101 Yishun Ave 5 #02-95 Singapore 760101
(+65) 9271 9276