Testimonials
Hear from our Students
The best test for a tutor's ability to teach, lies not in the credentials, but rather the testimonies that past students vouch for strongly. See what some past students have to say about our tutors.
Mr William is a very patient and dedicated mathematics tutor. As someone who was always weak in math in junior college, I gained a lot more confidence through his teaching and guidance. Unlike prior tuition centres I have attended, I was able to have one-to-one lessons in Orion Centre where I could both receive help for math questions from school as well as have additional notes and practices. Mr William made mathematics much easier to understand as he would patiently go through all the math concepts at my pace which made me better able to catch up during lectures in school. Overall my grades have greatly improved through his lessons and I could not have scored a good grade in A levels without his help! 🙂
Charmaine ho
08:22 17 Aug 18
When I first approached my tutor, William for help, my confidence in mathematics was at an all time low. Mathematics was my weakest subject and I could not understand it no matter how hard I tried or how much time I invested in it. However, William never once gave up on me. He was always patient and dedicated, spending additional time after classes to explain concepts that I couldn't understand, or questions that I was unable to solve in school. He also answered questions I sent through WhatsApp no matter the day or hour. William is very knowledgeable in his subject area and would demonstrate different methods to solve a question. This allowed for better understanding and I could then choose the method I felt most comfortable with. Throughout my A level journey, William was always encouraging, looking at the positive side of things and never rebuking me for subpar results. Although he only coaches me on mathematics, William looks at my results holistically and tells me which subjects I should put more focus on. He made me feel comfortable to ask even the simplest of questions and was never frustrated by the number of questions I had. I believe that that was most vital for my improvement in mathematics. William is more than a tutor and I am forever grateful for his guidance.
Gerry Chong
06:17 15 Jul 18
I didn't know what to expect when I first approach Mr William for help as I never had tuition before. The lessons at Orion are much more structured as compared to school and more useful resource was provided. Also, Mr William would often link the concept we learn in class to different type of real life applications. That makes the lessons more interesting and spiked my interest in physics, eventually leading to my good grade at the A-Level.
Arthur Liu
10:04 11 Apr 17
My tutor, William, at Orion Tuition was a very dedicated tutor. With his help, I was able to understand mathematics much better, eventually obtaining a desirable grade at the A Level. Thank you! 🙂
I had lots of difficulties in understanding H2 Physics. However under their guidance my concepts for physics have improved greatly. I doubt I would ever scored well at the A Level without all the support i received from Orion Tuition!!
Jaslin Chong
08:29 06 Apr 17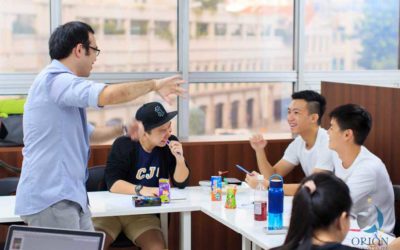 During Sec 3, my math was hanging on the borderline pass mark with a chance to easily slip into a failure grade. Anxious, my mother engaged a tutor for me from a friend of her's. Honestly, I have never believed that tuition actually helped as it was more of just...
read more
Have any Questions?

Say Hello!
Leave your contact details below and we will get back to you as soon as possible.
Location
Bugis Branch: 420 North Bridge Road, #03-06 North Bridge Center Singapore 188727
Yishun Branch: Blk 101 Yishun Ave 5 #02-95 Singapore 760101