H2 Physics Tuition
2021 JC2 Revision Classes Commence from Nov 2020.
2021 JC1 Regular Classes Commence from Jan 2021.
Our established and highly reviewed (do check out our testimonials) program for H2 Physics has consistently achieved 90% A or at least a 2-grade improvement at the GCE 'A' Level. 
Students will be grouped into classes by their pace of learning and lectures will be delivered in the clearest and most efficient manner by one of the best tutors in the industry.
Revisions will be conducted in various formats such as: summary of critical concepts through examples, short assessment tests, class quizzes etc. This allows our experienced tutor to engage the class in two-way communication and ensures information can be absorbed and retained in many different ways.
The program includes a focus on advanced problem-solving techniques that are essential for the GCE A-Level and building up the fundamentals of physics for weaker students.
Consultations will be available to ensure that students can grasp concepts in the most efficient manner.
Toa Payoh Branch:
Blk 190 Lor 6 Toa Payoh Central, #04-508A
Singapore 310190
Yishun Branch:
 Blk 101 Yishun Ave 5 #02-95 Singapore 76010
Woodlands Branch:
 Alternate Location. Mr Anthony's Home for JC Level. Full address will be given upon confirmation of attendance.
For 1-on-1 Tuition availability, please enquire from our Coaching Page.
Limited Yearly Intake
No centre will put a limit to enrolment. However, we do, so that ALL our students will receive the best academic support.
Beyond Class Consultation
ALL doubts and questions from students will be adequtely addressed by our super-committed tutor.
Best Physics Program
It is impossible to summarise what our program offers, as we offer everything our students need.
Elastic Collision
Derivation & Special Cases
Preview our online resource that is available exclusively for our students


Hear What Our Students Are Saying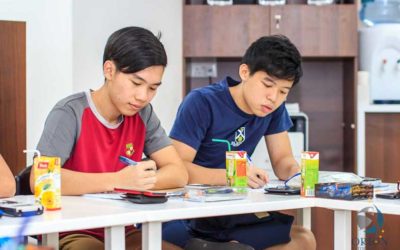 After struggling with H2 Mathematics in my JC1 year, I was introduced by a friend to William's classes. At the start, William would focus on getting the fundamentals straight, building a strong foundation. This is often overlooked by schools which would focus on...
read more
Not sure if our program will be the right fit for you?
Frequently Asked Questions
Will the H2 Physics program prepare its students for the practical and experimental design questions in A-Level Physics Paper 4 (weightage of 20%)?
The experimental design and planning section of Physics Paper 4 will be covered as part of our program curriculum. There will also be demonstrations of various practical experiments during class. Stations will be set up for students to have some hands-on experience. 
Beyond that, our students may also sign up for extra practical sessions with their tutor (additional charges apply).
How is Orion Tuition Centre's H2 Physics program different from other tuition centres?
There are two key ingredients for any effective program: the quality of the tutors and the program curriculum. The tutors at Orion Tuition Centre have excellent skillsets, track-records, and experience. We also boast one of the most comprehensive physics program in the industry.
Our curriculum ensures that our students are well prepared even for the practical exam. Practical examination preparation is something very few tuition centres offer.
To provide our students with an edge in the A-Levels, we have an extensive array of resources. They include practical guides, online video lectures, exam-focused past-year questions, and more. A free sample of our Physics Summary Guide is available for download below.
I am concerned with the order of topics as it differ from JC to JC. Will Orion Tuition Centre's curriculum be suitable for me?
The difference in topics for JC2 H2 Physics is minimal as compared to JC1. Thus, there is no pressing concern for JC2 students.
For JC1 classes, our tutor will exercise flexibility in various ways:
limiting the class size
breaking up the class
etc.
to best prepare students for their promotional exams. In some cases, especially closer to the promotional exams period, we may also reject the enrolment of students if we do not have a suitable class for them.
I am concerned with the order of H2 Physics topics. Where can I find out about Orion Tuition Centre's lesson plan?
We do not publish our lesson plans online as each class curriculum is dynamic and tailored to each class.
As such, usually, there are no two classes that are doing the exact same thing. We do this so that we can cater to the different learning paces of our students.
For example, if 80% of the class find themselves comfortable wth Topic A, Topic A will be given less emphasis; this allows the other 20% of the students to catch up with the topic, yet still value-adds to the 80% of the class. During subsequent revision phases, our tutors will introduce more challenging questions on topic A for the class.
This is one of the many planning considerations we adopt at Orion Tuition. For a program to be effective, it has to be dynamic and our tutors are willing to go the extra mile to adapt to ensure optimal results for our students.
I am interested to enroll into the JC2 H2 Physics class. Will I miss out on the earlier JC1 topics?
There are various mechanisms in place to ensure all topics (i.e. inclusive of all JC1 syllabus) are adequately covered.
Our H2 physics curriculum balances between the revision of JC1 topics and the introduction of JC2 topics. Revisions will be done in phases for JC1 topics with increasing difficulty. Varying depths of physics concepts will also be built into these phases.
In addition, from time to time, there will be extra sessions for some JC1 topics. Our students can opt-in for these extra sessions. There are also online lessons that our students can leverage on.
How big is the H2 Physics class size? I am concerned with the lack of opportunities to consult and seek clarification.
Our maximum class size is about 12 students. Priority will be given to questions related to the topics being covered in the lesson.
Students who want to seek help for their school work may highlight their questions to our tutors. We will be glad to offer assistance beyond scheduled lesson time. Just ask kindly if you need help; we never turn students away.
Register Your Interest Below